To my most enchanting new acquaintance,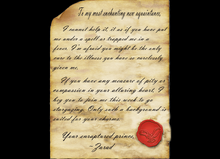 I cannot help it, it as if you have put me under a spell or trapped me in a fever. I'm afraid you might be the only
cure to the illness you have so carelessly given me.
If you have any measure of pity or compassion in your alluring heart, I beg you to join me this week to go stargazing. Only such a background is suited for your charms.
Your enraptured prince, Zarad
Before the date, you have the option of talking to Avalie
MC
1st Date

There was no point in wondering about all sorts of nonsensical scenarios. The truth would end up being the truth and wondering about it wouldn't change anything.
You couldn't stop your mind from conjuring all sorts of possible explanations and scenarios. from the plausible, to into the completely ridiculous to the actually impossible. (Secret demon-possessed twin, anyone?)

The date only continues if you picked the right choices & have the right skills
Insert Date Dialogue*
Community content is available under
CC-BY-SA
unless otherwise noted.