Jurassic World: Dominion Dominates Fandom Wikis - The Loop
Play Sound
"You seem completely clueless when it comes to gaining insight on people and situations."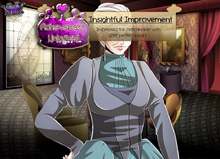 Information
[
]
Your ability to gain insight about people and situations.
This skill is part of 3 cumulative skills - Quick Wit , Persuasion and Interpersonal Insight.
How to gain insight
[
]
Week 1
[
]
WFC - Anaele - You must be happy at the opportunity to be able to create your own reputation, outside of your mother's shadow.
WFC - Lisle - Compliment his sister.
WFC - Woodly - Because he wants you to owe him a favor.
WFC - Penelope - Tell her you are glad she's here.
WFC - Hamin - Yes, it's practically an adventure!
WFC - Cordelia - It was very pleasant, thank you for asking. And yours?
WFC - Zarad - In the same flirtatious tone, return his compliments with friendly insults.
WFC - Jaslen - The Attendees
WFC - Lyon - Don't be silly. That assumes there's an objective standard of party attending performance.
WFC - Avalie - Politely
WFC - Falon - Discuss his famous Battle Tactics
WFC - Emmett - The fuss is really silly when it's what is on the inside that counts.
WFC - Yvette - The history of the Summit.
WFC - Jarrod - By staring him down coldly.
WFC - Gisette - Are there such things as petty ambitions, or only petty people?
WFC - Clarmont - I hope to follow in Katyia's footsteps during these troubled times. OR People with the most power are often the worst human beings to be around.
The Summit - Woodly - I am not the one with a reputation of avoiding the delegates, your grace. Are you certain it is I that has been absent and not you?
Week 2
[
]
Horse Riding - Yvette - I think there is much to be learned from the stories of days long gone, Lady Yvette. Melancholy or not, so long as they are true.
Week 3
[
]
MM Breakfast - Blain - Take heart, Lord Blain. You succeeded in making quite the dramatic entrance. I'm sure no one will forget it.
Other Pages
[
]