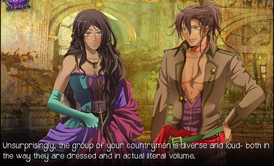 How to gain their approval
[
edit
|
edit source
]
Creating a Pirate!MC, +++++ Approval
Musicale - Perfect hosting , + Approval
Public Ambition - Serve my nation as a Pirate!MC , + Approval
Public Ambition - Further relationship with other nations as a Pirate!MC , + Approval
Public Ambition - Katyia Footsteps , + Approval
Perfect success , +++ Approval
Great success , ++ Approval
Success , + Approval
Failure , + Approval
Perfect success ++ Approval , another ++ Approval as a Pirate!MC
Great Success + Approval , another + Approval as a Pirate!MC
Midnight Picnic - Perfect Hosting , ++++ Approval
Midnight Picnic - Talented Hosting , +++ Approval
Midnight Picnic - Skilled Hosting , ++ Approval
Midnight Picnic - Above average Hosting , ++ Approval
Midnight Picnic - Average Hosting , + Approval
Girls night - Perfect Hosting + Approval
Girls Night - Great Hosting + Approval
MC learned today about the true situation between Hise and Corval. Hise, the nation of pirates, has made wealthy Corval's trading ships their favorite target. The Emperor is furious, and is on the verge of declaring war, determined to end the pirate threat- for good.
Community content is available under
CC-BY-SA
unless otherwise noted.