"You aren't at all convincing, but your natural charm is enough that the Matchmaker appears to find your attempt amusing and endearing."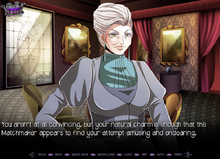 Your ability to win people over and make them like you.
Charm contributes to the cumulative skill: Likability.
How Charm affects the plot
[
edit
|
edit source
]
Welcome Feast:

Lisle: tell your life story in a charming way (30).
Penelope: make her laugh (30).
Lyon: tell an amusing personal anecdote (30)
Automatic Base Stat (+25)
"Your laugh was extremely endearing." (+25)
"You weren't just any thirteen year old girl. With the right smile and the right words, you charmed the pants off him." (+25)
Introduce Yourself: Friendly (+5)
Falon: "Charm him with a personal anecdote" (+5)
Explore the Castle: Parlor(+5)
Penelope (+10 if no Lisle friendship, +5 otherwise)
Explore the Castle: Parlor (+5)
Penelope's Gift (+5)
Cordelia's Gift (+5)
MM Breakfast: "Demurely charming" (+5)
Explore the Castle: Parlor (+5, after first time)
Community content is available under
CC-BY-SA
unless otherwise noted.