Jurassic World: Dominion Dominates Fandom Wikis - The Loop
Play Sound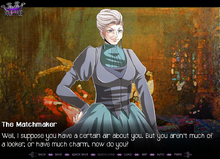 Charisma is your ability to draw people and their attention.
Charisma contributes to the cumulative skill: Persuasion and Likability
How Charisma affects the plot
[
]
Min 30

WFC: Lisle - Tell your life story in a becoming way (+ friendship)
WFC: Jarrod - Flirt your way free.

Min 50

Breakfast - Honestly, it's not that unusual for you to draw people's attention, so you are able to handle the scrutiny with some amount of grace.
Matchmaker second interview -You have enough natural charisma to serve you well enough.

Min 75

Matchmaker second interview - You have developed an incredibly impressive amount of natural charisma.
How to gain/lose Charisma
[
]
Character Creator
[
]
Automatic Base Stat (+25)
"You already could bring people under your spell" (+25)
You have the personal charisma of a cold fish (-15)
Drawing people's attention (-10)
Daughter of a Notorious Pirate Origin (+25)
Ambitious Widow Origin (+25)
Week 1
[
]
WFC: Zarad - Flirt back (+5)
Gisette's Date (+10, requires either high manipulation/ethical or just immoral)
Explore the Castle: Ballroom(+5)
Week 2
[
]
Explore the Castle: Ballroom (+5)
Week 3
[
]
Zarad's Gift (+5)
Explore the Castle: Ballroom (+5, after first time)