Jurassic World: Dominion Dominates Fandom Wikis - The Loop
Play Sound
Game information

[

]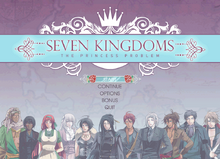 Seven Kingdoms (or 7KPP for short) is a narrative based, interactive game designed for a primarily female audience.
Timeline
Aly first introduced the game on 9 December 2014.[1]
The first demo was released on 21 December 2014.[2] Another update soon follows 2 days later.[3] This version only includes the first week of the gameplay.
The 2nd week of the gameplay was soon available on 2 January 2015.[4]
On 30 April 2015, Beta testers for the 3rd week of the gameplay was open to the public for registration.[5]
The third demo was released on 7 June 2015. [6]
Aly is thinking of putting 7KPP up on Greenlight around the same time as the Kickstarter.[7]
As of December 2016, the game is still in alpha testing. The release date is unknown but is now projected to be some time within 2019. The game has been Greenlit for Steam. According to Aly, the writing is about 90%+ done.
The extended demo was released.
2021 The game is still in progress.
As of 2022 the game is still in progress.
There are no plans to add cheats at this time.[8]
The original plan was the end of this year, but that didn't account for things like how long beta testing took (and will undoubtedly take again) and the time for any new features through the kickstarter. So depending on how things shake out, it might end up being early next year instead. [9]
2020 update
[
]
How much does the full game cost?

[

]
"We haven't made a final decision yet. I expect it will be somewhere in the 25-40 dollar range right now."
The Team
[
]
Aly Thompson
[
]
Her description on deviantart: Writerly person with the artistic talent of a four year old who occasionally takes pictures of shiny things. My hobbies include sleeping, practicing amateur therapy, observing the internets like it's a giant sociological experiment (especially the bits with the cats,) hanging out with my mother and furthering my evil plot of world domination.
Some facts about her
Regarding 7KPP
Works together with her mother to make 7KPP
Finds Emmett and Gisette the hardest to write while Ana is the easiest[15]
Loves writing a sassy MC[16]
Her fav MC pairings are Jiyel!MC x Clarmont, Corval!MC x Lyon. Not really romantically, but in terms of the most interesting information gotten from the interactions: Princess!MC x Zarad, Team makes me laugh: Countess!MC x Ana Team Scary: (Unethical)Widow!MC X Gisette [17]
One of my biggest motivators in making 7KPP was trying to make a game where people who don't often get to play as characters that feel like 'them' got a chance to make the main character who did. So I'm glad that it's ending up being that for some people :)[18]
Reveals how she does her planning[14]
Aly's Mother
[
]
She is the inspiration for A Minor Lady with a Scholarly Bent [19]
Comabana
[
]
Aly: The story behind Babana (our character artist) is basically I wasn't sure if this game was going to be something I could do, or if anyone would be interested. I thought about putting it out there and seeing if people responded to it, but I knew that having no character art would mean a lot fewer people would be willing to try. So I kept working on the game (which kept getting longer and bigger) while meanwhile occasionally checking in the artists subforum of lemmasoft forums (the renpy forum) to see if I could ever find my white whale: an artist who did characters/expressions I liked that we could hire to afford for our GIGANTIC CAST.
I was beginning to think it would never happen when I found Babana. I was super nervous but asked her if she would be interested, and (thankfully!) she was. And the rest is history![20]
CG Stuff [21]
Other Members
[
]
Aly mentioned there is a GUI professional, Amelori, with a Programmer friend
Official Azalyne Studios Sites:

[

]
Events
[
]
The first event was a Valentine's day poll.
The second event was demonyms for the nations.
The third event is a promotional image designing competition.[22]
Kickstarter plans
[
]
Preorder is a thing [23]
Thinking of adding routes like the GxG romance the Matchmaker's apprentice (see: Greer). Or the GxB romance with Jasper's childhood friend/rival (see: Kade). [24]
Events
[
]
Walkthrough List
[
]
Other Pages
[
]
Reference
[
]